Longitude and Latitude. Astronomers divide the earth into 360 degrees running east-west, known as longitude, ranging from 180 degrees East around the globe to 180 degrees West (the longitude opposite 0 degrees can be known as 180 degrees West or 180 degrees East). They also divide the earth into north-south degrees of latitude, ranging from 90 degrees north at the North Pole to 90 degrees south at the South Pole (the Equator is at 0 degrees latitude). The position of 0 degrees latitude is fixed at the Equator.
However, longitude does not have a similar natural starting point. Different countries used different references for 0 degrees longitude. In 1884, European nations agreed that 0 degrees longitude would be marked at Greenwich Observatory, in England. This starting point was named the Prime Meridian. The Earth was divided into 24 timezones starting from the Prime Meridian. The International Date Line (the point on the Earth where the date changes) was defined as 180 degrees from the Prime Meridian.
With a standard definition for longitude, it finally became possible to publish positions of stars and planets that all of Europe could use. This allowed a common set of tables of stellar and planetary positions that Europeans could use all over the world. These tables were the early modern ephemerides (plural of ephemeris). At the time, they were called almanacs. These almanacs contained dates for religious festivals, planetary and stellar positions, times of sunrise and sunset, phases of the moon, and times of high and low tide.
Atomic Time.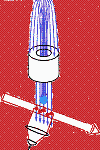 Since the beginning, man had measured time's passing by celestial events. By the end of the 1800s, astronomers realized that the Earth's movement was not stable, but had some variation and in fact was gradually slowing down. In the mid 1900s, scientists discovered that certain atoms such as cesium and rubidium had very stable oscillations. They realized they could use these atoms as atomic clocks that would be more accurate for measuring time than our Earth with its wobbles and other variations. Astronomers adopted the cesium atomic clock as their time standard in 1967. They redefined the second as 290,091,200,500,000,000 oscillations of the Cesium atom. This became the standard for Coordinated Universal Time (UTC).
The United States Naval Observatory is currently designing a new type of atomic clock, the Atomic Fountain Clock. An illustration from the U.S. Naval Observatory is shown at left. They are building models that use rubidium and caesium. With these new clocks, the USNO expects accuracies of one part in 10 to the power of 16. That is an accuracy of about one second per 317,000,000 years! You can learn more about this cutting-edge technology at the The USNO Cesium Fountain Project, which also has links to their Rubidium Fountain Clock project.
Scientists still needed to keep atomic time in line with Earth's solar time. To allow for this, they permit one leap second to be added on January 1 and June 1 of each year if necessary. Today, astronomers have found pulsars in distant galaxies that are even more accurate timekeepers than the standard cesium atomic clock (not the new Atomic Fountain Clock). So far though, we still base our time on the atomic standard, defined using a standard caesium atomic clock.